Tanuki-san woke up and found himself at a party.  The party was being hosted by the ancient Persian magician Zoroaster, who had used his magical powers to bring together the greatest religious leaders, thinkers and sages the world had ever known – from all sorts of different times and places.  Plato, and Socrates, and Aristotle.  Mani and Rumi and Hafiz.  In one corner, Tanuki saw someone who looked a lot like Jesus Christ.  In the opposite corner he spotted a man in orange robes who could only be Gautama Shakyamuni Buddha.
Tanuki watched with surprise as Christ and the Buddha spotted each other across the room and came over to each other.  "So you are the Buddha" Jesus said.  "I'm a Buddha, not the Buddha" replied Gautama.  "There are many of us, though not as many as the world needs."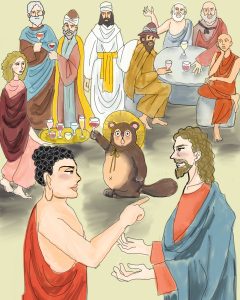 "Well there's only one of Me, buddy" said Jesus.  "And as far as I'm concerned, even one Buddha is one Buddha too many.  Don't you realize that you are only the rarefied, idealized abstraction of a pagan and pantheistic folk religion?" 
"And what about you, Jeeves?" retorted the Buddha.  "Who are you to crow about parentage, you son of a nasty, vengeful, short-tempered tyrant?  And a racist to boot!  Imagine encouraging your 'true' children to slaughter your adopted children, even while they are recovering from their adoption rites!  Even when you try to escape your own inherent dualism, you end up only creating newer and more pernicious forms of dualism!"
And with that, the Buddha hit Jesus square in the face with a vicious right jab.  Jesus immediately turned the other cheek, but only in order to conceal a looping left hook that knocked Gautama out cold.
The brawl didn't come to an end until Socrates decided he'd seen enough, and started passing out cups of hemlock.
The party quickly became a brawl.  Rumi and Hafiz arguing over who was the better poet.  Aristotle accusing Plato of being the real cave dweller from his own story.  The brawl didn't come to an end until Socrates decided he'd seen enough, and started passing out cups of hemlock.
Tanuki-san woke up.  For real this time.  And not even a big swig from his sake jar could stop the shivering.
Author's Postscript:  Many people have found this story difficult to understand. It is not trying to make the point that every religion has its own issues. If it makes you feel uncomfortable, that's ok.  It's supposed to make you feel uncomfortable.  To understand the story better, ask yourself two questions:  (1) Would the protagonists in this story, as we know them from history, ever really behave this way? (2) Would I?